. . .double LP, world excited
Me and the Recluse were talking today about how, with all that's been going on in the Association, we here at FreeDarko probably should have something. So as much as I'm at this point all about working to perfect the maiden voyage of FreeDrafto, and as little of the Finals as I've watched, here are a few tidbits on the only NBA news that matters.
-Is there a single NBA player with as much clout as Kobe? You can say he's unreasonably demanded it, but the Lakers were more than happy to hand it to him. And even with his stock at an all-time low, Bryant's got more influence over his franchise—and more capacity to affect people's view of the league—than any number of more agreeable, possibly more skilled, players. He's still the ultimate power broker, with Shaq's folk hero appeal as good as toothless, LeBron too concerned with not turning into Kobe, and Garnett and Iverson too real to transcend the players' side of things. Like it or not, Kobe Bryant is still the most influential athlete in America, even if most of it's mere potential at this point.
-The real winner here is Odom, arguably the most versatile man in the Association. You can say a lot of things about Phil's coaching, but he's nothing if not smart and efficient. Handing him Odom in his prime—especially on a team that, starved for talent, will have to make as much of him as is humanly possible—has to be as attractive to him as a second go-round with the incredibly gifted #8. There's been a lot of noise about Odom being utilized like the second coming of Scottie, which is hardly out of the question.
For Odom, Jackson is a god-send. Queens's finest is almost too proficient for his own good, which explains his occasionally indecisive or over-determined play. The one year he had a strong coach, he became an All-NBA caliber weapon. Jackson knows that the Lakers will only go as far as Odom can take them, since his role will determine what shape the offense takes around Kobe. Chances are, the better it looks, the more likely Kobe will be to make his game a fit for it.
-Something tells me Butler's on the way out. Besides Kobe and Odom, he's their only appealing asset; packaged with an expiring contract, he could get them some frontcourt help. Plus he's probably going to get squeezed out of starting job, unless Phil wants his point-forward also having to be their best big man. Not that Odom isn't capable of playing the undersized 4 out West; Marion proved it's possible on the right team. But given the role he's likely to be handed, and the unlikelhood of Jackson trying to remake the Lakers in the Suns' image, I just don't see it.
-Some draft talk: with the best PG's steadily rising in the mocks, the chances of the Lakers stealing Felton at #10 seem slim. But given Phil's PG history, the amount of time Kobe and Odom should handle the ball, and the Lakers' problems in the post, look for them to grab a solid starting PF.
-One final word on Kobe: you don't trade him. For all his personal shortcomings and tendency toward egomania on the court, his combination of sheer ability, basketball IQ, and desire to win are unmatched in this league. Wade may be getting close, and T-Mac, for all the strides he made in the playoffs, is still the NBA's most persistent engima. You can make the argument for Iverson, Garnett, or Duncan, or claim that LeBron's just one season away from leaving everyone else in the dust. But for the here and now, Bryant's still the most formidable specimen of classic basketball greatness out there. That he can essentially run the Lakers and remain the league's #1 story despite an operatic fall from grace is a testament to what every GM in the league still knows: get Kobe under control and he's the most dangerous player in the Association. Hopefully, the league having passed him by will allows us to learn to appreciate him all over again.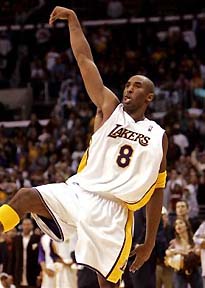 -In case you're wondering, I still haven't bothered to watch a game of the Finals all the way through. I do have to finally take THC's side on Manu-gate here, though, and officially deem the buzz out of control. For one thing, he's still essentially a scorer. And while it's fashionable to say that he'd win the scoring title as the #1 option, let's not forget that Duncan still draws a fair amount of attention from defenses, as does the defense-splitting speed of Parker. Don't get me wrong, Manu's a fantastic player and as much of a joy to behold as anyone not on the Suns. But just because Wade's been knocked out, it's not fair to assume that
someone
has to inherit the mantle of hype.