State of the Euros
We all know the Pejas, Rebracas, and the distinguished likes of Slava "Serbian Salley" Medvendeko. But in a league increasingly populated by international players, there are more and more obscure men from overseas that FreeDarko feels obliged to stay abreast of. To save you the trouble, here is a fleeting guide to the forgotten men of the Euro revolution, featuring commentary from three of this blog's very own conveyors of spine.
Andriuskevicius, Martynas
Bethlehem Shoals: NBA.com does not announce to us from what team Andy currently belongs to. Something inside me says the Cavs; is he the Arvydas protégé with the short arms? Short arms are the new small hands.
TrentonHasslesCarmelo: Once projected as a top 3 pick. I feel like Mark Cuban has something to do with the guy, but I'm not sure exactly what. His last name translates to "will have foot problems"
Brown Recluse: At one point Marty was seen as a potential lottery pick, until teams realized he was 7-3 and weighed less than Darvin Ham.
Barbosa, Leandro
BS: On the cusp of departing this list. Forever known as "he who could not back up Nash," thus setting into motion all that was crumbling about the Suns' summer. Brazilian point guard with overly long arms, could have been my favorite player ever.
THC: Unfairly criticized for choking during the playoffs...Seemed like the one guy on the Suns who didnt really hang out with the other guys (i.e. not the guy you would catch dancing at Q's birthday party).
BR: Once known as the "Brazilian Gary Payton," the Suns are now hoping he can at least be the "Brazilian Devin Harris."
Biedrins, Andris
BS: From what I hear, he is one of the many Euros who have found a place to live at Golden State. He is impossibly thin and a little soft, but could be versatile big man, no? Him and most others on here.
THC: I've got a good feeling about this guy. I think Chris Mullin will soon prove that he is the Anti-RobBabcock, taking huge awful draft gambles...but winning?!!?!?!!
BR: At one point last season, the Warriors had a prodigious trio of Euros in Biedrins, (Free)Zarko, and Tskita. This is the guy they think can actually play. Watch your back, Troy Murphy!
Brezec, Primoz
BS: You just a slave. Primoz is the Slovenian Collins brother that never was and will not be unknown for much longer.
THC: The fact that Brezec was putting up 16 and 11 with greater regularity than one would think makes him the physical embodiment of the phrase, "The center position is not what it once was.
BR: Early last season, I was seriously contemplating moving to Charlotte to become Primoz's legal advisor, that's how much faith I had in this man. Unfortunately, I predict a step backwards this season, as Okafor will steal some minutes at the 5, so that young buck Sean May can play the 4.
Cabarkapa, Zarko
BS: Once, in print, I half-jokingly suggested that Zarko would win ROY. The most melodious Euro name yet devised by man or beast.
THC: Zarko's on the Warriors too? Holy shit.
BR: Shoals' favorite Euro.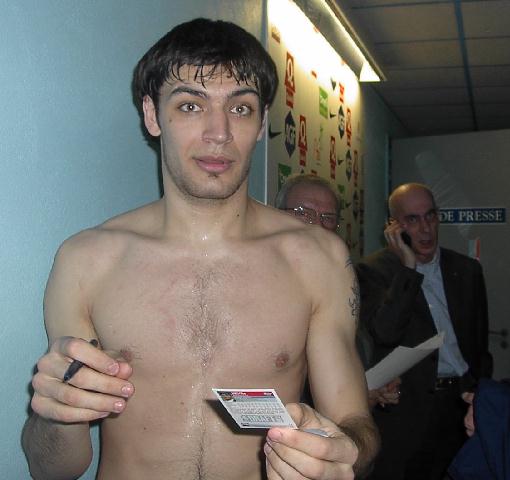 Delfino, Carlos
BS: The only Argentine that can't find instant fame in the Association. Now he risks being confused with a Puerto Rican unless he can make the back-up job his own.
THC: Interpol's favorite basketball player. Come on, Detroit, stand up for yourselves. I want to see the "CARLOS X 2" signs. I can imagine Carlos D, Darko, Melo, and a roundtable of other young foreigners (remember Melo is from PR) conspiring to have Larry Brown assassinated.
BR: [Editor's Note: The Recluse claims to have an "insurmountable mental block" when it comes to writing one or two basically mal-informed and silly sentences about Carlos Delfino, despite "knowing more about him than almost anyone else on this list."]
Diaw, Boris
BS: Came into this league touted as the French Scottie Pippen. Not a current All-Star—an all-timer. This was the beginning of the end of "tremendous upside" speculation.
THC: Will flourish with the Suns. Mark my words. WILL FLOURISH.
BR: People need to realize that French people can't play basketball. Tony Parker only gets by because his dad is an American.
Ilunga-Mbenga, Didier
BS: I thought he'd been drafted this year.
THC: How does Cuban just have an entire squadron of centers at his disposal at all times?
BR: Another one of Donnie Nelson's overseas unpolished gems. These ain't conflict diamonds, is they? Jacob, don't lie to me, mayne!
Ilyasova, Ersan
BS: The Turk with the Russian name, and he plays like it, too.
THC: I refuse to acknowledge the existence of any Turkish basketball player not named Mehmet Okur, Hedo Turkoglu, of Ibrahim Kutlulay
BR: Do we need to do a post about the MONAK-47?
Khryapa, Viktor
BS: Dude gets clowned on because of his name, but I just don't see it. He also was once considered AK-47's equal as a future star but I just don't see that, either.
THC: On some really ignorant generalizing shit, I'm just gonna go ahead and say that I think Russians on the whole have more heart than the other Euros in the league. Like, I'd be more comfortable drafting a Russian I never heard of than a Croatian.
BR: Part of the youth movement in Portland. If Zach keeps fucking up, don't be surprised if Viktor lined up alongside Travis Outlaw in the starting lineup. BTW, Blazers = Clippers NW. And I mean that as a compliment.
Kleiza, Linas
BS: Any way you slice it, this man's name for the world is Linas, as in Charlie Brown and Friends. I just never knew that was a real name. Or that it had its origins in the fine gardens of Eastern Europe.
THC: And JR Rider cant get a spot on someone's roster??? Sorry, I'm getting real patriotic here.
BR: Do they still count as Euros if they played high school and college ball in the States? The next Darius Songaila.
Korolev, Yaroslav
BS: To paraphrase Sergei from Season 2 of
The Wire
: Is it seventeen years old? Yes? Is it made a very public, unconditional promise by the Clippers on the eve of one of the most unpredictable drafts in recent memory? No? Then it's not Yaroslav Korolev.
THC: When dude got drafted, they showed him dunking on 12-year-olds in a Russian YMCA gym. Averaged like 2 points a game and for some reason Dunleavy is obsessed with him. Clips could have at least drafted Nate Robinson just to increase ticket sales. Ridiculous. Drafting foreign projects in the lotto over established Americans is the equivalent of all these indie music cats who deify The Streets and Dizzie Rascal. BUT YOU WONT SHOW THE SAME LOVE TO YOUR OWN I Self Devine, Big Juss, Saafir, Juggaknots...etc.
BR: If you run a google image search on Korolev, you'll find a picture of him dunking like Jordan. I seriously think that is the extent of the scouting that Mike Dunleavy did on this kid.
Krstic, Nenad
BS: Would link to past FreeDarko articles on him, but then I'd run the risk of you seeing what I was writing back then.
THC: Epitomizes "serviceable."
BR: Knowledge Reigns Supreme Over Nets Establishment.
Lampe, Maciej
BS: He was a projected lottery pick who fell into the second round, the exact same storyline that has drawn people to Rashard Lewis since day one of his career. In the biggest city in the universe, no less. And then. . . nothing. I think he was on the Suns for a minute, as was nearly everyone on this list in the second half of 2003-2004.
THC: His name soothes me. Sorry, thats all I got.
BR: Joined Frederic Weis in that unholy fraternity of Euros who were booed by Knicks fans on draft day. If this guy can't see minutes with the Hornets, he must really suck.
Lorbek, Erazem
BS: Yes, Ron Artest shares a uniform with an impressionable Euro rookie.
THC: This guy played for Izzo at Michigan State? Huh?
BR: Bailed on his college team midway through the season to promote his techno album in Europe.
Macijauskas, Arvydas
BS: Not Martynas Andriuskevicius.
THC: If I were a tall Euro trying to get drafted, I would just change my first name to Arvydas.
BR: Seriously, who the fuck is this guy?
Nachbar, Bostjan
BS: Once upon a time, the Rockets needed a shooter. Nachbar was a draft day shoe-in who failed to deliver. As honest a mistake as you'll find in Euro scouting.
THC: Wasn't this the dude who Karl Malone went after hard in the 2004 playoffs? Could be a fan favorite on a contender...Instead is wasting away in N.O.
BR: I know it's fucking retarded, but I want to call him "Boston Snackbar."
Oberto, Fabricio
BS: His name sounds like he should be a basketball Adonis. Looking at a few photos of him, I honestly can't tell if he's a gigantic Michael Pitt or just a 6' 10" guy from another country that happens to not look like Dracula.
THC: Ok, now I know we could devote an entire week to looking at players' personal websites (especially the foreign ones), and therefore need not post every one we see. But
this
made me chuckle more than a little bit. Dude does look like a basketball Adonis after all.
BR: Isn't Oberto a brand of beef jerky?
Pachulia, Zaza
BS: With him now gone to the Hawks, there is now absolutely no excuse for thinking that Dan Gadzuric is a foreigner.
THC: The 05-06 Primoz Brezec.
BR: When I saw the Bucks play in Charlotte last season, the kids sitting behind us kept chanting "Zaaa-zaaaa" whenever he came in the game. How do you say "fan favorite" in Georgian?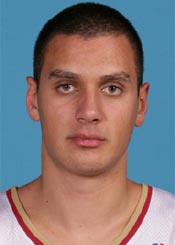 Pavlovic, Aleksandar
BS: Has missed more open three's on national tv since god knows who, but he kind of looks like me so I ain't mad at him.
THC: Watching Pavlovic whiff open shots and tank Lebron's playoffs hopes was oddly familiar to watching Sprewell destroy the 04-05 T- Wolves' team chemistry.
BR: He kind of looks like Shoals.
Pietrus, Mickael
BS: I am a major supporter of Mickael Pietrus. Call him Artest of the Islands; he's following the same developmental arc.
THC: Only fully sincere comment I will make in this entire post: Pietrus will be a star in this league.
BR: He was supposed to be the French Jordan, while Diaw was the French Pippen. Could still pan out as the French James Posey.
Planinic, Zoran
BS: I take back what I said about Zarko being the best Euro name ever. (apologies if this has offended any of our Balkan readers.)
THC: A Chad Ford favorite...I'm not impressed.
BR: Have any of these 6-7 Euro point guards ever actually worked out? The Nets have so much faith in this guy they just signed Jeff McInnis. Ouch.
Podkolzin, Pavel
BS: First off, in basketball dork-dom, "Chad Ford" is a season. I'm talking like summer, fall, spring. Now, in the Chad Ford leading up to Podkolzin's being drafted, double P became more than an inflated scouting report—he was a folk tale that rose like a flatulent batch of smoke and steam from the steppes of Mother Russia. Second, he had better be allowed some PT some time soon, for the same reason that Yao had to start from day one.
THC: SEE. I'M TELLING YOU. CUBAN HAS AN ARMY OF THESE DUDES...unless, I think he's not on the Mavs anymore.
BR: How is this guy not at least as famous or good as Gheorghe Muresan?
Seung-Jin, Ha
BS: I hope everyone read that article that Simmons linked to earlier this week. This guy is a Tru Warrior, as is whatever Euro he attacked with a wooden pole (who I hope made it onto this post, wherever you are).
THC: That article actually deserves re-posting. I'll try to find it.
BR: As awesome as it is that Ha attacked Nedzad Sinanovic with a wooden pole, he loses major points for reportedly yelling, "I'll sue, I'll sue!" What a pussy.
Update: The Recluse provides
this somewhat related link
to the now-legendary Seung-Jin/Sinanovic square-off.
Slokar, Uros
BS: I don't think I could ever have been accused of xenophobia, but this guy's name just sounds evil. And why doesn't nba.com tell me what team he's on?
THC: That's like some made-up name someone invented just to fuck with us. Is his first name pronounced "EUROS?"
BR:We included Uros Slokar, but not Cenk Akyol? What the fuck?
Sundov, Bruno
BS: There's been a legit seven-foot center from Croatia floundering in the league since 1998-1999. And still this whole Euromania happened as charged?
THC: Should be backing up Jerome James but won't be.
BR: He's on a team coached by Larry Brown and managed by Isiah Thomas. Yeah, he's playing a lot this year.
Tskitishvili, Nikoloz
BS: The summer he was drafted, I once left work early to try and fathom the enigma that was Skita. He ended up rotting in the long, long shadow cast by a truly resplendant Chris Anderson, prompting Dime to proclaim that Anderson, too, was headed for future stardom.
THC: Was told by my little brother who saw Skita light it up in summer league, that after Skita hit like his fifth consecutive three-pointer, he ran down to the other end boxing an invisible opponent. An instant Minnesota fan favorite.
BR: Minnesota is really the perfect team for him, since he is built like Kevin Garnett and plays like Wally Szczerbiak. Now is as good a time as any to reveal that my personal choice for the name of this site was TskitaTime (as proposed by Shoals).
Vujacic, Sasha
BS: I've seen him. I've watched him play. And I've concluded that he's only in the Association because of a clerical error, or a case of trans-Atlantic mistaken identity.
THC: Challenged Kevin fucking Garnett in a game last year, and actually burned him. Got in KGs head HARD (no Walton). I like him cuz he plays fearlessly.
BR: White guys in the NBA tend to either look like they're 14 or 40. Sasha would fall in the former category. I don't think he even shaves yet.