Welcome to the Great White North
When I heard that Sam Cassell had been traded from my Wolves to The Clips for
Marko Jaric, my initial thoughts on this trade were--in response to Shoals'
Hunter/Philly post--TEAM OF WHITE FAN FAVORITES? Although Hoiberg is now certainly out for the year with a heart condition (by the way, why are heart conditions like the new plantar fascitis? No one gets them for like 10 years and then suddenly theres a rash of them...Curry, Turiaf, Hoiberg...,WATCH OUT JAHIDI WHITE...this is somewhat similar to how sharp comebackers have been sidelining MLB pitchers quite a bit this season, when last year it was a whole bunch of guys fouling balls off their shins, but I digress...), a given 5-man lineup (YES I AM REPOSTING THIS) could have looked like:

1 - Jaric
2 - Hoiberg
3 - Wally World
4 - Skita
5 - Madsen

And when your only notable season ticket holder is this guy,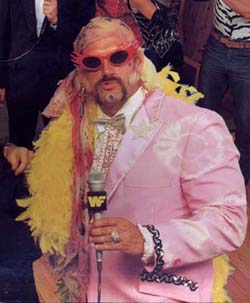 you are talking about putting WHITE fans in WHITE seats. This is the same fanbase who blames Sam and Spree single(double?)handedly for last years misadventure. Me personally? I blame Troy Hudson's inability to penetrate and Flip's rotations. Shoals, more potently, offered this lineup:


PG: jaric

SG: mccants

SF: troubled griffin
PF: KG
C: Kandiman
Now, reality aside (by the end of the season, Griffin will be starting C with Wally at SF), this lineup made me wonder if the Wolves have gone from contender to the purgatorial status of Freedarko cult classic (see Bulls, Wiz, 05-06 Warriors, etc.). They are all style, all risks, all caricature (NOT "character"). Currently, the headcase count is at 3 (Griff, Kandi, McCants), the Euro count is at three (Skita, Jaric, Ebi--INCLUDED), and the goofy white guy count is at FOUR (Skita, Madsen, Jaric, Wally). Aside from
Trenton Hassell, my rock and my redeemer, WHO DOES KG HANG OUT WITH on this team? I mean, isnt this the type of situation that gets stars groaning?

So where does this leave the Timberwolves? Better, I think. I love Jaric's game. And he is perfect in the Ridnour/Daniels type system that new coach Dwane Casey is bringing. Jaric can penetrate and dish with the best of them, and when he doesnt have to create his own shot (see, NEVER in the past with the Clippers), he can knock it down. If the
guy can stay healthy, he's good for 10, 6, and 1.5 steals a night.

Completely disregarded by the pundits at large (except for one anonymous commentor on our own site), is that this trade has now FULLY (I say fully because they were on their way) CATAPULTED the Clips into Freedarko cult classic status. A Mobley-Cassell backcourt? Are you kidding me? You want to talk about style? You want to talk about mean? You want to
talk about poisoning the mind of another young 6-7 point guard who may become the closest thing to Magic since the days of showtime?


"Yo Cat...can you hear me? Some day...you and me...we're gonna run this league."