Warriors come out and play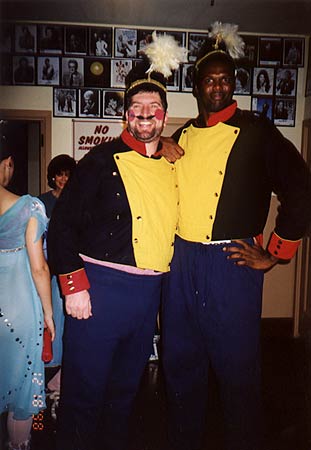 Bethlehem Shoals:
If you've been on a basketball blog in the last week and a half, or had the good fortune to exchange emails with the Recluse on a regular basis, you've no doubt heard the good word: the Warriors are this season's hype team, the now-dismantled Clip Show with a brain on top, the Suns we saw coming, a running team with a colorful cast of thousands that makes watching and following the sport two entirely unrelated activities. Since the end of last season, we'd been planning to serve up something about the City's new favorite sons. But the longer we sat on it, the less I cared, and now I find myself revived by the shocking thought that Golden State just might not measure up to helium-studded expectations.
What made the Clippers and Suns such exercises in phantasm was that, for about 80% of any given game, every single person on the floor for them was the shit. They were the kind of players that, when you happened upon their name in an unrelated article, or catch a SportsCenter segment that involved them shopping or serving rice, you think, I love that guy!!!! Corey Maggette is the one great exception to this rule, but his on-court insistence always made you think that you, not he, must be at fault for the faint, elusive aura of his stardom. Stories of the Suns singing Motown on the bus, Steve Nash dancing at Q's birthday party, the thoroughly underdeveloped topic of what happens when Odom, Miles, Q, Brand, and Olowokandi step into the club like an army, Miles late getting down the floor because he was too busy tapping his forehead. . . it wasn't just that these teams hailed production onto the scoreboard, or that they did it in outlandish fashion. They flat-out sublimated basketball, made you think that whatever they were up to, what went down between buzzers was just an aspect of it. You don't become a running team by demonstrating the run—you do it by earning the right to get down like that. Somewhere, there is a gatekeeper of style. And the price of this being's heart is not merely the wearing of his cloak, the massaging of his hide, the struggle of the exo-skeleton.
Brown Recluse, Esq.:
What Shoals fails to understand is that the new look Warriors have never claimed to be heirs to the Clippers mantle of young, fast, and stylish. Rather, Chris Mullin has built a team unlike any the NBA has seen before; they are the Team of the Future. Think the Spurs if they were fun, or the 2000-01 Kings if they had balls. Last season, the Sonics attempted this sort of alchemy, throwing hardened rebounders and defenders together with slick perimeter scorers and somehow eking out 52 wins. But, that type of cobbled-together machinery never holds up; this Golden State team is built to last.
Mullin's genius is attempting to synthesize the three most compelling NBA player types into a team of champions:
1) Athletic African-American Guards: Let's not kid ourselves. As important as centers are to the game, the NBA has been a league of athletic guards since at least Dr. J's time, and certainly since the years of His Airness's tongue-wagging dominance. Backcourts don't get much more athletic than Baron Davis and Jason Richardson. Davis, when healthy, is one of the ten best players in the NBA. Remember back to the 2002 Playoffs, when B-Diddy punked T-Mac for claiming to be the best player in the series, or to the final 19 games of last season, when he averaged 22.5 points and 9.4 assists after coming over from New Orleans. Richardson is one of the most slept on players in the league, having toiled in relative obscurity in the Bay for the entirety of his career. Everyone should know that he's the best dunker not named Vince Carter, but more importantly, his all-around game has been steadily progressing over the past few seasons.
2) Tall Euros with Funny Names: No other NBA team can compete with the trio of young Euros that the Warriors can put on the floor. Andris Biedrins, still only 19 years old, is showing signs that he may already be ready to take over the center position from the well-meaning, but grossly overpaid, Adonal Foyle. Zarko Cabarkapa remains an enigma, but there's still a chance he can live up to his Next Next Nowitski hype. And he has a
cool new haircut
. It's debatable whether Mickael Pietrus should really count as a Euro, since he's from the Caribbean, but he balls for France, so fuck it. He's got the defensive skills to please Coach Montgomery (a great basketball mind, by the way) and the athletic ability to run and jump with B-Dids and J-Rich. If Mullin is as smart as I think he is, Dunleavy, Jr. should be packing his bags by the time the holidays come around.
3) Gritty White Guys: This is where losing Brian Cardinal really hurts the Warriors. He was the perfect complementary player, the kind of guy you hate when he's in college, but who provides the necessary glue for any NBA team. Dunleavy is out of the equation, as he's about as gritty as a bar of Dove soap, but Troy Murphy has some real potential here. He needs to stop shooting 19-foot jumpers and get down low and bang some heads. After all, he did once write "Redrum" on his shoes while at Notre Dame.
B-Shoals:
Allow me to run down for you the starting line-up of the 2005-2006 GSW crew. At point guard, Baron Davis, all that separates the Warriors from the Sonics in the magnitude of style department. If I could recall how he plays as more than a carelessly illustrated scouting report, he would probably be in my top ten (that said, he's made a little less enticing when you remember that Gilbert Arenas's 2003 departure might as well occupy a roster spot on this team). That good, that sick, that endearing, that much of a bringer of destiny with every single move. After this, the plunge. And what's worse, almost all there is to say about most of these people is basketball, basketball, and more basketball. They are tin men who aspire to fly too close to the sun.
Anyone who'd been reading between the lines for any sizable part of FreeDarko's reign knows that I think J-Rich is the San Antonio of Dunk. Dude pulled off an off the backboard, through the legs, from near the foul line monster two years ago, and no one's pulse moved in the least. Vince is precise and slick, but that's assassin, figure-skater, jeweler technique. Richardson is a technician in the worst sense of the word, like a studio engineer who decides he's invented the remix; this (and him, not Davis), I fear, is the shameful key to the "high-flying Warriors" we've been buttered up for. Off-court case in point: I know he's the only baller with both a gun charge and mindless celebrity cliché "I like all different styles of music" on his sheet. Dunleavy, Jr, the closest there's ever been to an American Euro, not to mention a coach's kid and Duke alum. Troy Murphy, a white bruiser with a jump shot and knack for getting an ungodly amount of crafty (read: dull and uneventful) rebounds. And Adonal Foyle, an unskilled center who can't even claim rawness. His bio is novel, and the anti-war stuff cute but face it, he ain't no Etan Thomas.
The sole spot of light is Mickael Pietrus, whom I treated in great detail earlier this week. But
as has been pointed out
, he's not going to see the minutes I want, nay, need, him to see. So sour.
The bench gives you more duds. . ..Derek Fisher, a marginal player we've all probably seen more of than Stevie Francis, Josh Smith, and Pau Gasol combined. Calbert Cheaney. Andris Biedrins and Zarko Cabarkapa who, although Zarko holds the distinction of being my all-time favorite Euro name, are nothing without Skita by their side. Chris Taft and Monta Ellis, sub-par versions of the already less-than-compelling Stromile Swift and Dajuan Wagner sagas. . . gigantic-handed Ike Digou, it's all on you in the 06!!!!!!!!
This team could make every night a Got Milk! Rookie Game and I still wouldn't believe a fucking second of it.
B. Recluse:
What ultimately separates the Warriors from the Sonics or the Spurs is the two men leading this team into battle. On the court, its superstar and leader isn't the stoic Tim Duncan or the cleancut Ray Allen--it's Baron Davis. While he may occasionally have some
FBP moments
and he often flashes that love-me smile, B-Diddy is way more (forgive me) Freedarko than both of them put together. Not only is he friends with the Game (which gives him only dubious street cred, anyway), but Baron is also one of the few point guards who can effectively run a team and also flex serious street level skills. In the front office, don't let the corny flat top 'do fool you, as one third of Run TMC, Mullin knows more than a little bit about style. But, he's also a Dream Teamer, so he knows how to win, too. It's not about having the most bad-ass player at each position, it's about building a team of complementary players. Golden State has an incredibly dynamic perimeter matched with tough interior players who can block shots, rebound,
and
stick open jump shots. If the Warriors don't win at least a round in the playoffs, I'll be shocked.
At the very least, as a Golden State fan, you get to yell: "Warrriooorrrrrsss, come out to playyyayyyyyy!" And no one can take that away from me, not even you, Shoals, you killjoy!