Free Dresscodo, Pt. 2148: WWFBPD?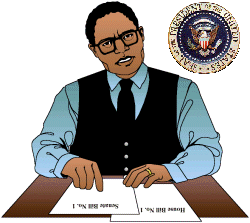 Yeah, it's another dress code post. If you don't like it, you can look at this.

THC has already broken down a lot of players' responses to the dress code, but the question remains: WWFBPD? In order to answer this question, we need to first look at what makes a player an FBP candidate in the first place. There's the middle class background, the generally classy demeanor, the charity work, the art collection, and so on. But, we're talking about the First Black President here, so surely politics must come into play? Or, in this post-Jordan world, is one more likely to gain potential FBP status by not taking a stand on divisive issues? After all, pundits were discussing Colin Powell as a legitimate, real-life FBP, and no one knows where he stands on anything.
There is also the question of whether the FBP is one who transcends race, is a spokesperson for the race, or skillfully navigates the area between the two. In the wake of Katrina, Shoals suggested that Kanye was entering into FBP territory after making his comments about Bush and his lack of feeling toward black folks. So, if a carefully played race card is somehow indicative of FBP status, should we be singing the praises of Allen Iverson and Stephen Jackson for defending the culture from attacks by The Man?
It's helpful, but still really confusing, to look at where some of the key players in the NBA's culture wars have come out on this issue. Ricky Davis, who has the weirdest facial hair this side of Scott Pollard and who once intentionally shot on his own basket during a game, has said that the dress code is "no biggie," and that he's cool with it. Likewise, the Big Poet, Etan Thomas, who has repeatedly attacked the Bush Administration over the war in Iraq and its slow and inadequate response to Katrina, says: "It's not as bad as it could've been."
On the other side, we have such clean-cut, throwback players as Wally Szczerbiak and Tim Duncan saying the dress code is "way too strict" and "bascially retarded," respectively. What's an FBP to do?
Ultimately, a player with the wisdom of the FBP would realize this isn't the battle that will define his legacy in the Association. We're not talking about life and death, we're talking about clothes. Certainly, Iverson, Jackson, and others have valid points about the importance of fashion and self-expression, but there are bigger fish to fry. Even Iverson has backed down some from his earlier stance.
So, what would the FBP do? We need look no further than the man who inspired the term in the first place--Ray Allen. Allen has stayed the middle course, acknowledging the necessity of the dress code, while also criticizing its overreaching, and never using the "R" word: "I think the dress code should strictly [enforce] what guys wear on the bench when they are not playing. That is when guys are most visible. But when we are on the plane, that is when we are most leisurely. I don't think that should matter." He hath spoken.
Note: Did anyone else notice Rip's NBA toiletry bag? Do you think they give those out for free, or did he have to buy it at the NBA store?
Fuck, am I writing like Carrie Bradshaw now?